In the past few days, the 2010 movie
Ramona and Beezus
has been in our DVD player several times. We all love this move! We hadn't watched it in a while, a long while, so I pulled it out and popped it in the DVD player on Saturday. Much to my amusement, the twins were intrigued and laughed often at Ramona and her "imagination" and antics. (I have learned that anything with kids seems to draw them in!)
"Ramona and Beezus" was based on the
Beverly Cleary books
about Ramona, including this one:
Big Girl has read her way through most, if not all, of them. They are very cute, and funny, and I think the movie did a great job of translating the stories to the big screen in an entertaining way. I originally saw it in the theaters with Big Girl, and it quickly became a favorite flick.
There are so many reasons why I love this movie. Let's start with this one:
Family! It is truly a family movie, about a loving family who encounters struggles. Actor John Corbett is great as the father, so great that I think this would be a great movie to watch for Father's Day since it really is a father/daughter film in so many ways.
I love that the family is portrayed as normal -- meaning they live in a small house, nothing fancy. This is so different than so many movies today, when families live in McMansions on perfect little streets. I loved Ramona's little house; just look at the pic above in the tiny living room with a window seat and cozy seating and sweet stairs. It's portrayed as cramped, but that's what makes it normal! The sisters even share a room, which is so unusual in today's real world and movie world, isn't it?
The normal tone continues with the family facing some financially tough times. I always think this is a good lesson for kids to see, especially in our uncertain economy. (This is also one of the reasons I adore the American Girl movie
"Kit Kitteridge."
I smell a post on this flick in the future!)
The music in the film is so divinely perfect too, from "Walking on Sunshine" to "Hey You/I Love You." My kids were dancing every time we watched it. The wedding/reception scenes are total eye candy too.
Of course, one of our favorite scenes is when Ramona and her dad make the "world's longest drawing." It's Big Girl's absolute favorite part. I love it too, and I love watching her unroll it and seeing how bright and happy the mural is. I searched and searched for a photo of it but could not find one!
And, oh yeah, I also love the movie for this: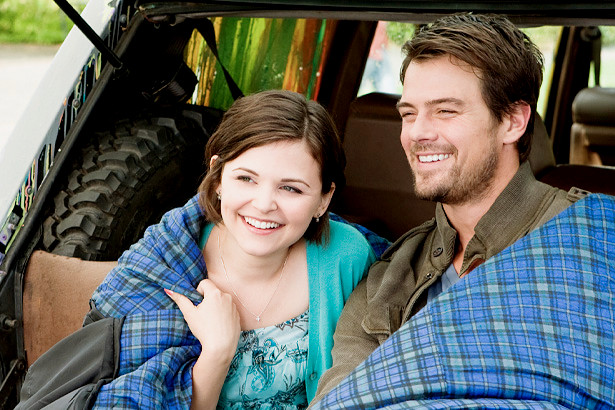 Ginnifer Goodwin. Possibly one of my favorite celebrities/actresses EVER. Especially since I am so
"Once" obsessed
right now.
If you are in need of a flick for family movie night, try "Ramona & Beezus."